From among all the exquisite products and the unique flavour of the Iberian products, carefully guarded by the traditions of our land, the acorn-fed Iberian Lomo Doblado (lard coated loin) is one of the greatest unheralded treasures of the gastronomy of Extremadura.

This gourmet product, which is exclusive to Señorio de Montanera, has been recovered from the pig-slaughtering tradition of Extremadura. As an entirely handmade product, this recipe had all but disappeared, with the practice of how to make it no longer being passed down through generations.
El lomo Doblado ibérico de bellota Señorío de Montanera tiene el sabor propio de los productos gourmet más selectos. Visualmente tiene un aspecto muy característico debido a su apariencia y el grosor de la pieza abrazada por cuerdas enrolladas a su contorno. Pero su sabor natural es lo que le hace merecedor de su fama internacional. Al no llevar pimentón, su ligero condimento acentúa su potente sabor a bellota similar al regusto que deja en boca el mejor jamón ibérico de bellota. Toda una delicia para los paladares más exquisitos.
What is Iberian Lomo Doblado?
The acorn-fed Iberian Lomo Doblado is a unique and exceptional Iberian cured sausage, thanks to the fact that it is completely handmade. It is obtained from acorn-fed 100% Iberian pigs and is based on a recipe from the South of Extremadura that is typical of the pig-slaughtering tradition of this region.
It took artisanal know-how for Señorio de Montanera to recover and perfect this traditional recipe, honed through research and development work. The result is a noble cured product, whose quality is perceived through sensory qualities capable of conquering any palate.
Nutritional properties of the Lomo Doblado
The products obtained from acorn-fed 100% Iberian pigs are an extraordinary source of monounsaturated fats, which provide us with beneficial fatty acids for our body. Based on its natural acorn-based diet, the fat of the Iberian pig raised in Montanera has a high content of ácido oleico; por ello el consumo moderado del acorn-fed Iberico ham is beneficial to health acorn-fed Iberico ham is beneficial to health and is a part of the Mediterranean diet.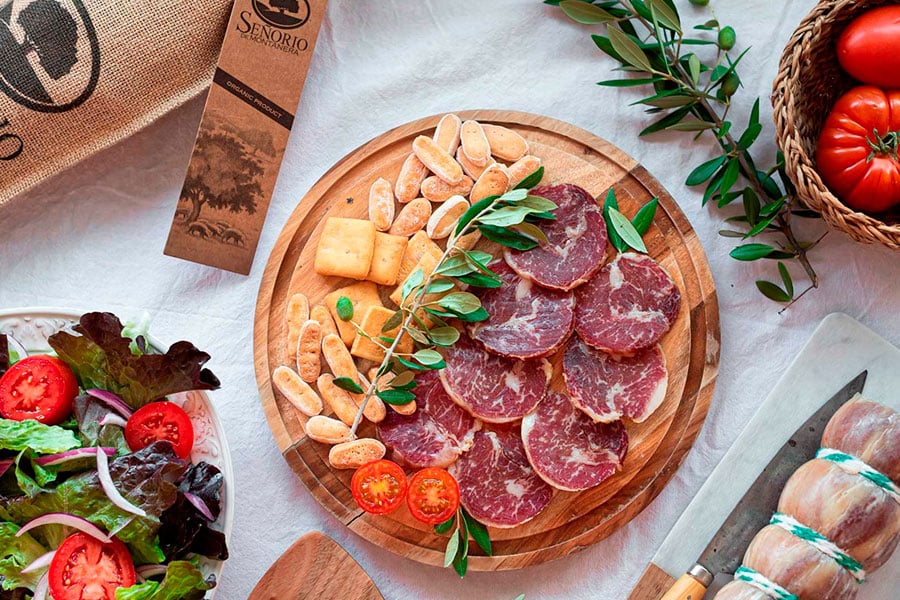 Differences between the Iberian Loin and the Iberian Lomo Doblado
The Señorio de Montanera Iberian Lomo Doblado is made with acorn-fed 100% Iberian pork loin; however, the end product is very different from the traditional Spanish Loin. Being twice as thick as a cured Iberian pork loin, the Iberian Lomo Doblado is amazingly succulent and requires a longer curing process. The Lomo Doblado reaches an optimum curing point after 6 months, compared to the 3-4 months required for the traditional Spanish Loin.
Regarding its preparation, both products are made following the traditional recipe of Extremadura. The Lomo Doblado has very little seasoning and its quality is based on a slow and prolonged curing process
Unlike traditional Iberico loin, it does not contain paprika, which favours a more natural flavour with a pronounced "acorn" aftertaste, very similar to that left by the maza (central cut) of Iberian ham. The Lomo Doblado is completely handmade, following a process that requires exhaustive care. The expert hands of a Butcher Master monitor the conditions of our pieces regularly: tying their strings manually, one by one, in a natural way, to ensure that the meat inside stays together at all times.
How is Iberian Lomo Doblado made?
The Señorio de Montanera Iberian Lomo Doblado is made with acorn-fed 100% Iberico loin. The piece, trimmed of external fat, is marinated in salt and garlic. The next day, before encasing, it is coated with a thin layer of lard from acorn-fed Iberian pigs. For the encasing, the piece is folded in half, making both ends meet, which is where it gets its distinct "doblado" name (folded). Once encased, it is tied with string, which plays an essential role in curing.
During the curing process, each Lomo Doblado must be tied manually, piece by piece, so that the meat stays together. It is thicker than other traditional cured pork loins and thus, the Lomo Doblado requires a long curing period of more than 6 months. Like the other Iberico loins, the Lomo Doblado has a black seal that identifies it as an acorn-fed 100% Iberian product of the highest quality.
Where can I buy acorn-fed Iberian Lomo Doblado?
The acorn-fed Iberian Lomo Doblado can only be found in gourmet food stores. In the Señorio de Montanera online store it is listed at a price of €109 per piece and is presented in an ingot-shaped case, perfect for a gourmet gift. In addition, a few months ago, we started selling sliced Iberian Lomo Doblado (100g. tray), to be able to enjoy its exquisite flavour in an individual format, ready for tasting.
The acorn-fed Iberian Lomo Doblado has a remarkable, almost indescribable succulence, with a melt-in-your mouth texture that floods the palate with the purest flavours of the dehesa pasture lands. Made following completely artisanal methods, it is an exquisite gourmet product that is free from gluten, lactose, and any other food allergens. Since its recipe was recovered exclusively by Señorio de Montanera, it has become a true gastronomic gem, with a natural flavour lauded by the most demanding palates.