Señorio de Montanera, leader in pure Iberian ham with D.O.P. Dehesa de Extremadura, celebrates its anniversary with a very special gift for its customers: a silk scarf decorated with an original watercolour by one of the company's founding partners, the artist Ana Clara Espárrago.
Perfect for a special gift, this high-quality, delicately patterned scarf pairs excellently with Señorio de Montanera's superb acorn-fed 100% Iberico Shoulder Ham with D.O.P. Dehesa de Extremadura. In vaporous natural silk bamboo chiffon, its delicate motifs capture the light, colour and life of the pasturelands of Extremadura, the artist's birthplace and the setting of her fondest childhood memories.
A special gift to celebrate its 25th anniversary
Señorio de Montanera has embodied art, purity and tradition since the company was founded in 1995, although the families of its livestock partners have been protecting and caring for the Dehesa de Extremadura for more than 250 years. More than 60,000 hectares of land serve as the natural setting for the free-range rearing of its acorn-fed 100% Iberian pigs, a privileged natural environment where they enjoy more than 3 hectares of pasture per animal and the origin of one of the greatest culinary treasures in the world.
Despite having celebrated its 25th anniversary as a company last year, Señorio de Montanera,leading brand of pure Iberico Ham with Designation of Origin Dehesa de Extremadura, chose to put off the celebration until a time when they could share the joys of their proud history with others. With this in mind, it is now launching its most special gift to bring life and colour to the Christmas that we deserve to celebrate together: a 100% natural silk bamboo chiffon scarf, in a top quality, semi-transparent, vaporous and very light fabric; a unique accessory to accompany the acorn-fed 100% Iberico Shoulder Ham from the D.O.P. Dehesa de Extremadura. Measuring 90 x 90 cm, the silk scarf is decorated with an original watercolour painted by the artist Ana Clara Espárrago (Badajoz, 1960), one of the partners at Señorio de Montanera; a design that also decorates the gift box that the Shoulder comes in.
Blue and green from a childhood in the pastures
Trained at the studio of the renowned Chilean painter Guillermo Muñoz Vera, Ana Clara specialises in oil painting, the technique which she has worked on most throughout her nearly 30-year career. However, she has recently turned to earthenware and porcelain ceramics —giving shape to 'ladies' inspired by Sicilian testas and Hellenic heads, floral crowns, marine-themed centres, etc.— and watercolour. All her pictorial and sculptural work conveys a natural and positive tone, fleeing from the uncomfortable and the artificial.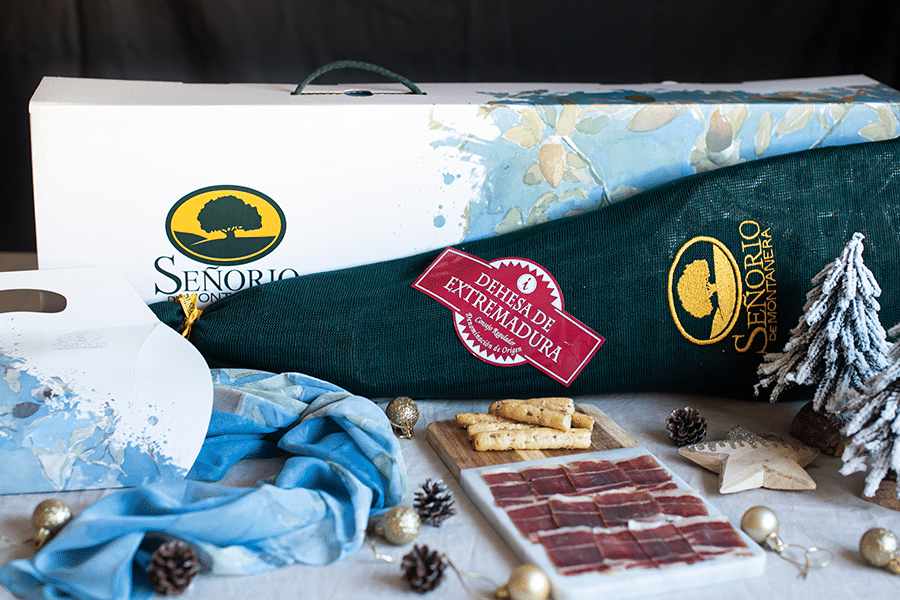 This joie de vivre is embodied in the design that recreates the Señorio de Montanera scarf. It has a delicate and enveloping motif that stops an image of the Extremadura pasture in time: acorns and holm oak leaves in warm green tones against a background of blue sky. Its author wanted to return to her childhood, to the "acorn wars" they played as children, to burying holm oak leaves, etc., and to pay tribute to her grandparents' connection with the countryside. In fact, this watercolour was a personal gift that she gave to her brother, Francisco Espárrago (Chairman of Señorio de Montanera), who wanted to use it to commemorate the company's 25th anniversary.
A gourmet gift that will make the difference
This gift edition also aims to be a gesture for the women who, throughout the history of Señorio de Montanera (and in the context of a sector traditionally as masculine as the livestock sector), have contributed to making Señorio de Montanera one of the benchmarks for Iberian cured meats at a global level, among them: their mother, a founding partner and one of the first women to be part of the Board of Directors, and Ana Clara herself, who designed the company's logo 25 years ago (which is still the same to this day) and is involved in matters relating to the company's image.
The Señorio de Montanera Iberico Shoulder Ham, with D.O.P. Dehesa de Extremadura, weighs between 4.5 and 5.5 kg and is made from 100% Iberian pigs: reared in their own dehesas and fed exclusively with acorns and natural pastures during the montanera fattening period. When cut, the deep purplish-red loin is tinged with a pleasant infiltrated fat, which sculpts each slice like marble. On the palate, it reveals a varied range of nuances in its aroma and flavour, ranging from warm to mild, yet marked and persistent. Its lard melts on contact in the palate, leaving a velvety sensation in the mouth full of tasty and sweet nuances, with an aftertaste of acorn, oak forest, art and tradition.
This gourmet gift can be purchased from the Señorio de Montanera online shop while supplies last, starting from 222 euros depending on the weight of the D.O.P. Dehesa de Extremadura piece.