Iberian ham is one of the greatest treasures of Spanish gastronomy and one of the most highly valued gourmet products both at home and abroad. Its appearance is one of a kind: slender shank, black hoof ham, red lean pork; of particular note are the marbled fat and succulent lard. Its high levels of oleic acid, provided by the acorn, ensure its tenderness and palatability, and in addition, also give it the properties which make it one of the healthiest foods of the Mediterranean diet and a heart-healthy product.
Acorn-fed Iberian ham is a source of protein and contains a high level of oleic acid. Moderate consumption therefore provides great health benefits. Below are some interesting facts about how acorn-fed Iberian ham can become your best ally to achieve a balanced and healthy diet.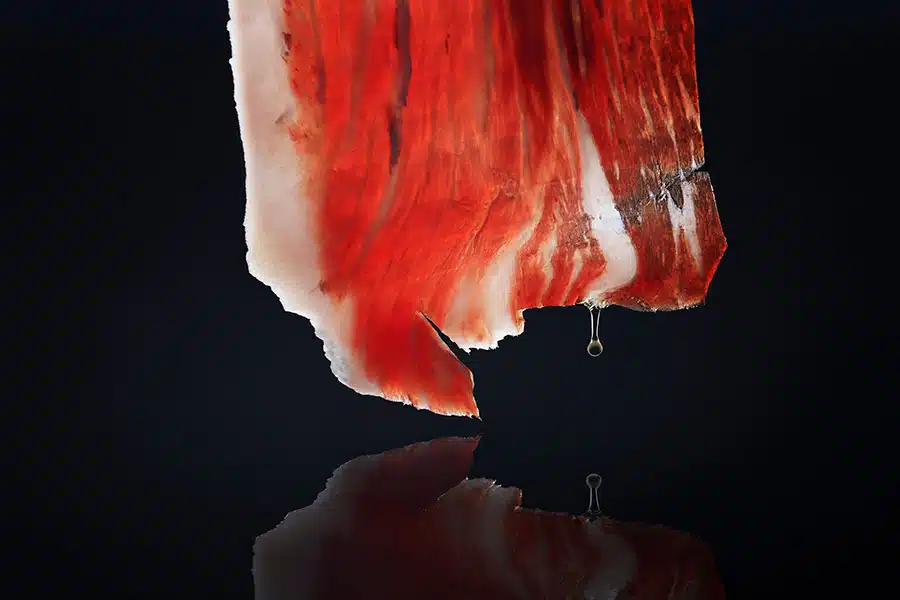 Main characteristics of Iberian Ham
Serrano Ham vs Iberian Ham, which is better?
Both, the characteristics of the Iberian breed and the natural diet based on acorns during the Montanera season give acorn-fed Iberian ham unique and exclusive properties. And it is precisely these qualities that 'enrich' it as a heart-healthy food and justify its great differences compared to Serrano ham.
Iberian ham is made from Iberian pigs, which are raised exclusively in the pastures of Spain and Portugal, thanks to the fact that these countries meet exceptional conditions, in terms of their climate and topography, for creating and enhancing all the properties of Iberian ham. Serrano ham is made from white pork meat (Duroc, Landrace, Pietrain or Large White breeds), from animals that are raised intensively in farms, inside and outside of Spain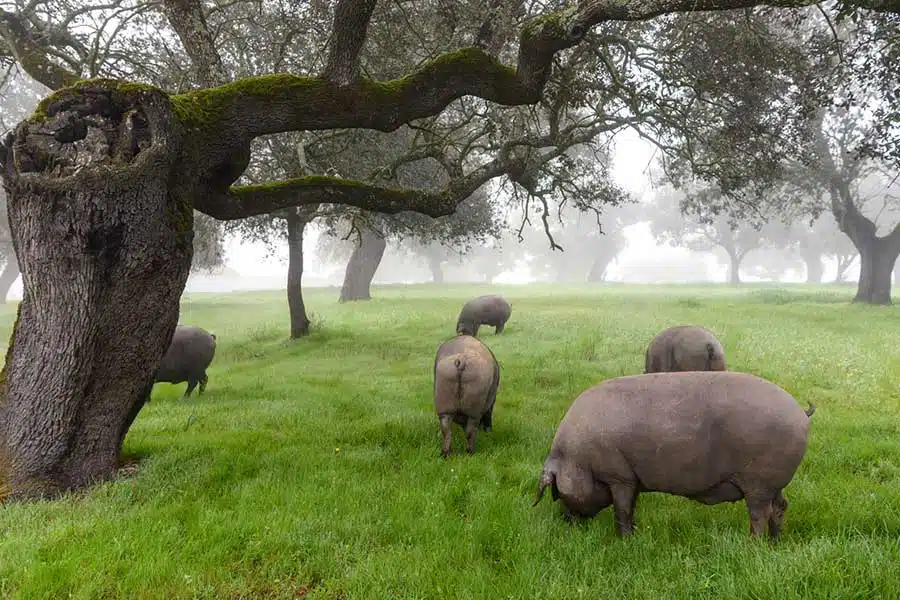 Given that the genetic starting point of these animals is different and that they are raised on a completely different diet: Iberian pigs are raised on acorns and grass (high level of oleic acid and natural antioxidants); the differences between Iberian ham and Serrano ham are significant. The meat from the Iberian pig, which is raised over a long period in nature (dehesa pasture lands) shares the characteristics of red meat, widely marbled (infiltrated) with fat with a high content of unsaturated fatty acids (mainly oleic), a result of the exercise the animal gets during its breeding in freedom. The Iberian breed is adipogenic, which means that it tends to accumulate a large amount of fat in its tissue. These deposits of intramuscular fat contribute to that particular marbled effect inherent to Iberian pork meat.
In addition to the breed, the quality of the pig's fat largely depends on its diet and the way the animal is raised. In this regard, there are different types of ham within the Iberian breed: acorn-fed Iberian ham, raised in freedom in the pastures and fed exclusively on acorns and natural resources during the Montanera season; Iberian 'Cebo de Campo' ham raised in semi-freedom and fed with acorns and animal feed; Iberian 'Cebo' ham, from Iberian breed pigs raised intensively and fed on feed.
Iberian ham requires a curing period almost four times longer than that of Serrano ham. The slow curing process, enveloped in the silence of the cellars carved out of rock, is what provides the qualities of exquisite flavour and texture inherent to the best gourmet product.
Unique breed qualities combined with curing and artisan production methods make acorn-fed Iberian ham a heart-healthy, delicious food, rich in vitamins and essential amino acids that are beneficial for the proper functioning of our body.
Nutritional value of Iberian Ham
In addition to being a unique gourmet product, acorn-fed Iberian ham is a very complete food from the viewpoint of its nutritional value; perfect for any diet. Contrary to what is commonly believed, Iberian Ham is not fattening when consumed in moderation. The fat of the Iberian pig raised in Montanera has a high content of oleic acid (around 55-65%), due to its natural diet based on acorns, which are rich in oleic acid, like olive trees. The consumption of mono-unsaturated fatty acids, such as oleic acid, improves and strengthens the endothelium, which is the tissue that protects the arteries of the human body – inflammation of this tissue is to blame for most cardiovascular diseases.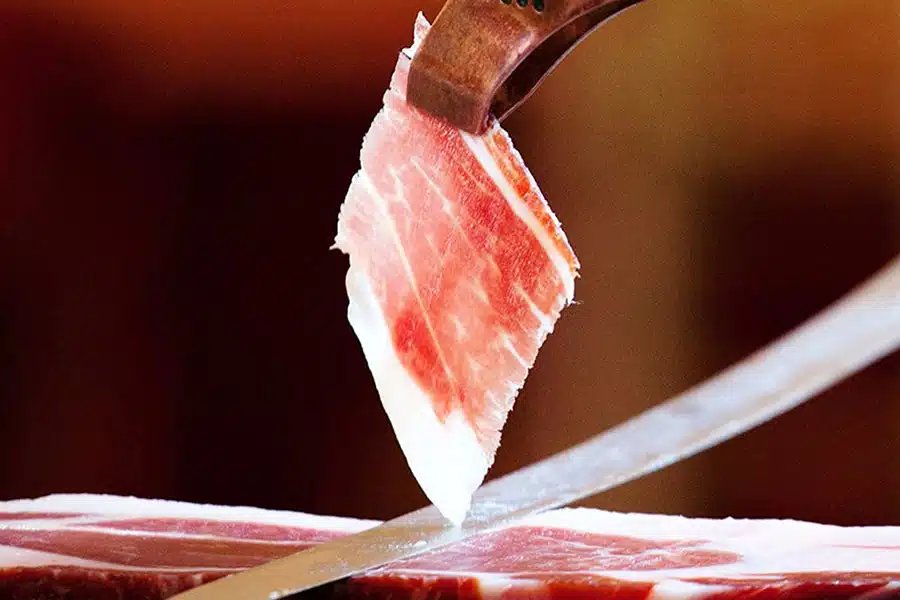 Iberian ham is a source of proteins of high biological value and provides a large amount of nutrients and vitamins that are essential for the proper functioning of our body. It has a high iron content, a perfect component for the prevention of osteoporosis. In addition, it provides vitamin E and selenium, which, combined with the aforementioned oleic acid, work as powerful natural antioxidants associated with anti-ageing processes.
Benefits of consuming Iberian Ham on a daily basis
If at this point you are still not convinced, below are some of the benefits which indicate that consuming Iberian ham on a daily basis, in addition to being a pleasure, is actually very healthy:
Prevention of cardiovascular diseases: As seen previously, the high content of oleic acid and natural tocopherols provided by the acorn help prevent cardiovascular diseases, as they contribute to reducing the levels of LDL (bad cholesterol) and improve the level of HDL (good cholesterol).
Reduced fatigue in athletes: The moderate consumption of acorn-fed Iberian ham provides a significant protein intake, with a balanced lipid profile and moderate calorie content. 100 grams of product provides 34 grams of protein, making it a perfect food to gain muscle mass and a perfect substitute for other less healthy red meats.
Prevention of anaemia Iberian ham has a high iron content, ideal for providing your body with this trace element, which is vital to our health.
Reduced stress and anxiety levels: Thanks to its high levels of Tryptophan (an amino acid that is a precursor of serotonin), Iberian ham acts as a natural antidepressant. Its consumption helps fight stress and reduce anxiety levels and has a beneficial effect on our mood.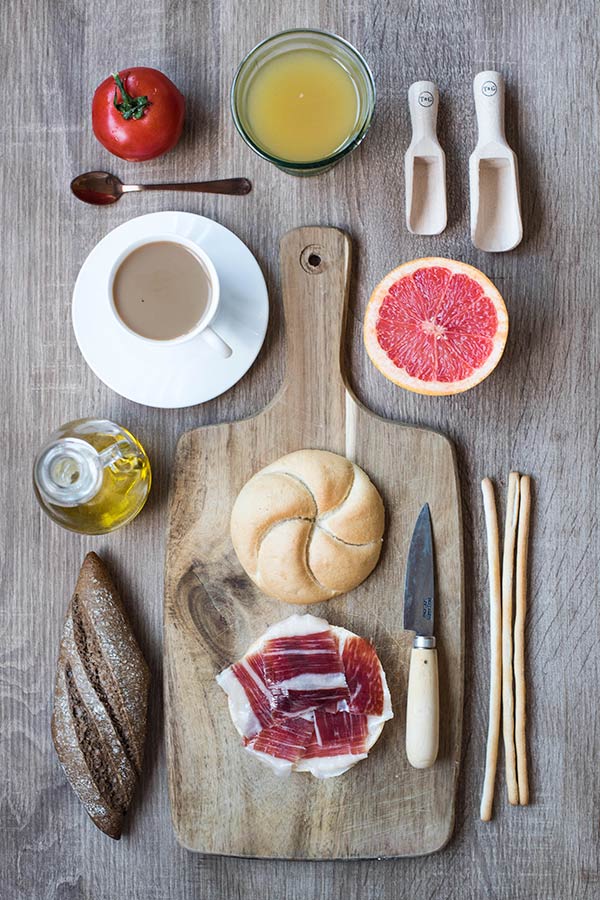 Ideas to introduce Iberian ham into your diet
A balanced diet to achieve complete and healthy nutrition is not incompatible with the pleasure of the exquisite aroma and flavour of gourmet products. The best thing about Iberian ham is that it is perfect for consumption at any time and on any occasion. Few foods are so complete and are so easy to consume as part of a healthy and balanced diet, as Iberian ham. Don't miss out on these inviting ideas to introduce Iberian ham into your daily diet.
Complete and nutritious breakfasts with ham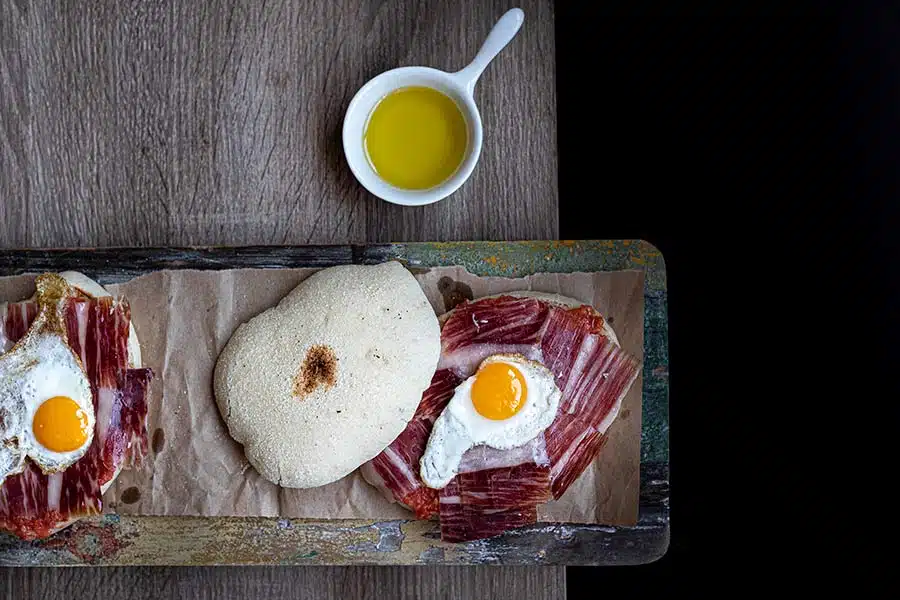 Starting the day with a complete and nutritious breakfast seasoned with the best pure Iberian flavour is a pleasure for all the senses. The traditional piece of toast with ham and olive oil is the easiest and fastest way to prepare a complete and healthy breakfast. Thanks to its beneficial effect on our mood (high levels of Tryptophan), this classic and delicious breakfast will provide our body with all the physical and mental energy it requires to face the day.
Combining ham with vegetables and other healthy dishes
Iberian ham is of high nutritional value and very easy to digest, making it the ideal flavour to combine with a light healthy supper. Combining a few slices of ham with vegetables allows you to reinvent the essence of healthy dishes in the purest gourmet style. From the traditional asparagus with ham, confit artichoke with ham to cold melon soup with Iberian ham for summer suppers – you'll find hundreds of ways to give in to the taste of the best Iberian ham. Your healthy suppers have never been so exquisite!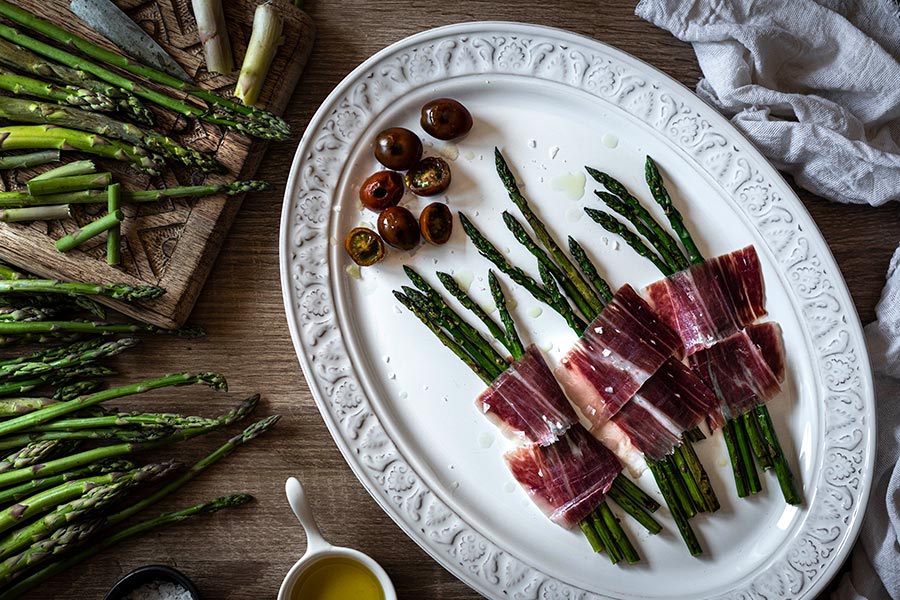 Dishes and ideas for using Iberian ham to share in gatherings with friends
At a party, a celebration, any evocative memory… Iberian ham is associated with celebrating our happiness. And the fact that no celebration or event worth its salt can do without the presence of the pure flavour of the best acorn-fed Iberian ham. An indispensable guest at our most special moments; Iberian ham is to be shared at gatherings with friends where, by proposing simple dishes, occasionally with original creative touches, you can prove to be the very best of hosts. An exquisite proposal guaranteed to go down well is Iberian ham served on toast with tomato, with or without quail egg, very easy to prepare and with a flavour that will surprise your most demanding guests.
Sliced Iberian ham in Modified Atmosphere Packaging from Señorío de Montanera will be your best ally when it comes to preparing healthier dishes. In our online store you will find a blog of Iberian recipes with ideas on how to introduce Iberian ham into your daily diet. Señorío de Montanera 100% acorn-fed Iberian ham, made exclusively in Extremadura, is a source of protein and contains a high level of oleic acid, which makes it a heart-healthy product with beneficial effects on cholesterol and blood pressure. A delicacy inherent to the diet and gastronomy of the Mediterranean that you'll find irresistible.